About The
St. Joseph County 4-H Fair
Entertaining St. Joseph County since 1841
Learn a bit of the history, mission, and the fairboard of the St. Joseph County 4H Fairgrounds.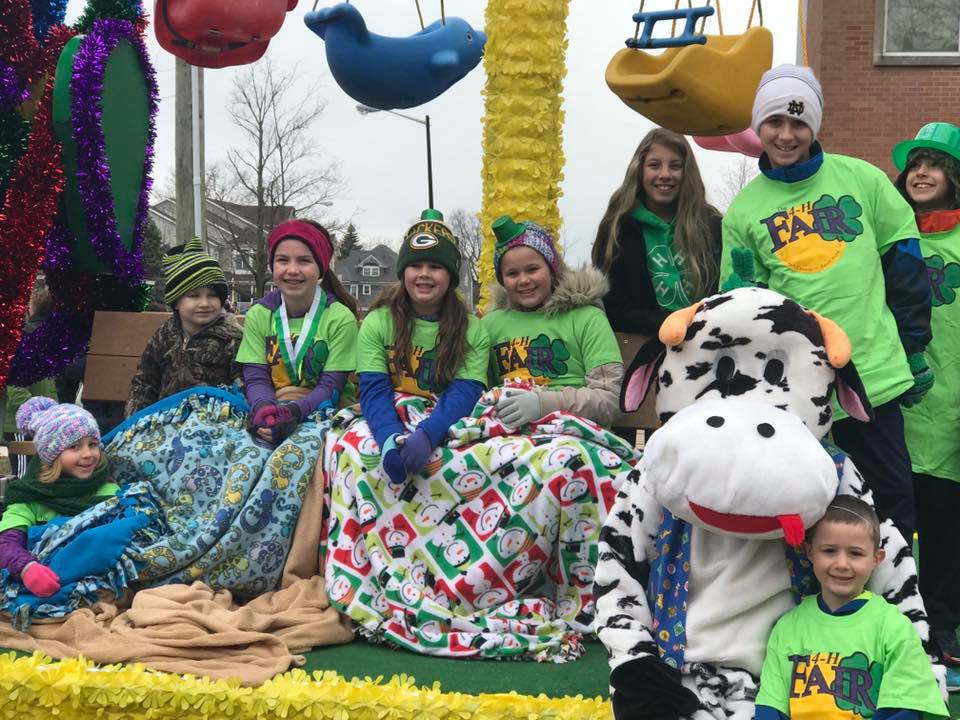 The purpose of 4-H Fair Inc. is to foster, encourage, and provide the means and facilities for the education of young people and adults, in proper and improved methods of agriculture and its related fields of conservation and home industry with particular emphasis on the programs of the National and Local 4-H Organizations.
We are selling bricks with engraved names on them and using them to build planters, walls and walkways throughout the fairgrounds.
Download the order form here: Brick Order Form
 St. Joseph County Fair is a 501(c)(3) organization, and is one of the two privately owned fairgrounds in the state of Indiana. In order to keep the grounds functioning and well maintained, we rely on fundraising events as well as contributions from individuals and local businesses.
The St. Joseph County 4-H Fair is celebrating many years of continuous fairs, but there were earlier fairs held in St. Joseph county and under different names.
October 26, 1851
Another fair was held on the lawn of the Old Court House in South Bend
October, 1852
Fair was moved to Mishawaka
October, 1853
Moved back to South Bend on the comer of Washington Ave and North Taylor Street on 2 acres and continued until 1857
1858
Yi acres was purchased on Portage Ave and North Scott Streets in South Bend. The fair lasted until 1872. During the Civil War the fairgrounds was occupied by troops and was known as Camp Rose.
1873 to 1880
The Agriculture Society became known as Northern Indiana Fair and relocated the fair on what is now know as Western Ave.
1881
County Commissioners along with the Old Agriculture Society bought 40 acres between South Bend and Mishawaka and named the fair Farmers Union Fairs. Horse Racing was major activity.
1899
The name changed to the St. Joseph County Agriculture Society. The 40 acres is what we know today as Potawatomi Park. In 1906 the land was given to the City of South Bend.
1914
4-H and Extension Service was established
1915
lst Interstate Fair was established at Springbrook Park (later know as Playland Park). This fair continued until 1925.
1919
Vocational Agriculture and Home Economics was started in the township schools
1926
Fair moved to North Liberty where the Old Hinkel and Masonic Buildings were used. Cattle was shown in the street. Expenses for the fair was paid by the Chamber of Commerce, Township Schools, Farm Bureau, County Commissioners and County Council.
1936
Fair was moved to Lakeville. Livestock was housed in tents, Home Economic projects at elementary building. Beef Cattle were auctioned. An amusement area consisted of Ferris Wheel, Whip, Merry-go-around.
1940
Fair utilized the Union Township High School and grounds. 1941…Brother Leo from Norte Dame Farms formed a committee to purchase lottery calves. 10 cents was charged for admission for adults and children over 12.
1945
Lakeville Lions took over from the Lakeville Business men's Association the responsibility for putting on the fair with the St. Joe County Ag. Society.
1946
Fair was moved to Playland Park. WSBT radio took over daily broadcast of fair events and the Tribune the publicity. Playland Park was ideal with pe1manent buildings that could be used for exhibits, race track, permanent rides.
1947
Incorporated the name as St. Joseph County 4-H Fair.
1958
Purchased 40 acres on comer of Ironwood and Jackson in South Bend.
1959
Site was cleared and 2 buildings were built. One large one for the 4-H exhibits and the small building for commercial vendors. Gooding Amusement Company provided the rides.
1991
Addition to grandstand and a roof for grandstand was constructed along with a new stage.
2015
 St. Joseph County 4-H Fair turned 90! Complete with a 9 day celebration! The Fairboard increased to a 27 member board as the fair saw increased growth. 
2024
Join us to celebrate our 99th fair June 28th – July 6th!